Prof. Nadia Magnenat-Thalmann (MiraLab)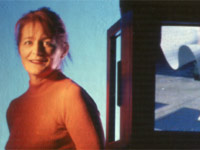 "Behavioural speech and emotions"
Abstract. Virtual humans have been the focus of computer graphics research for several years now. The amalgamation of computer graphics and artificial intelligence has lead to the possibility of creating believable virtual personalities. The focus has shifted from modeling and animation towards imparting
personalities to virtual humans. The aim is to create virtual humans that can interact spontaneously using a natural language, emotions and gestures. This paper discusses a system that allows the design of personality for emotional virtual human. We adopt the Five Factor Model (FFM) of personality from psychology studies. To realize the model, we use Bayesian Belief Network. We introduce a layered approach for modeling personality, moods and
emotions. In order to demonstrate a virtual human with emotional personality, we integrate the system into a chat application. Thus, the system enables the developer to design and implement personalities and
enables the user to interact with them.
Nadia Magnenat -Thalmann has pioneered research into virtual humans over the last 25 years. She obtained several bachelors and Master degrees in various
disciplines and a PhD in Quantum Physics from the University of Geneva. From 1977 to 1989, she was a Professor at the University of Montreal in Canada. In l989, she foundedMIRALab. at the University of Geneva, an interdisciplinary lab in virtual worlds. She has received several awards for her research as recently being nominated at the Swiss Academy of Sciences. She is editor-in-chief of two journals, the Visual Computer and the Computer Animation and Virtual Worlds journal.

Prof Mike Milne (FrameStore - CFC)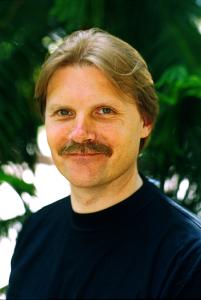 "How the computer animation industry has changed over the last
22 years"
Abstract: Mike takes an affectionate look back at last two decades of the computer animation industry, and how
it has changed; and looks ahead to what changes we can expect in the years to come.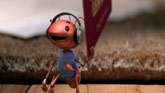 Mike has worked for more than 20 years in the computer animation industry. As head of Graphics at Research Recordings (now Air TV) in the early 80s, his work on the title sequence for the first series of Spitting Image won the D&AD Silver Award for outstanding television graphics. In 1984 he joined Electric Image as Director of Production. In 1992 Mike started the computer animation department at FrameStore CFC, which has since been at the forefront of European CG animation; the company is now the largest visual effects and computer animation studio in Europe.
He has won a BAFTA and four Emmy awards for his work on the BBC Science series Walking with Dinosaurs and Walking with Beasts.
Mike is a regular speaker at Computer Animation conferences worldwide and received an Honorary Doctorate of Arts from Bournemouth University in 2002.
Framestore CFC's CGI department is one of the most highly regarded computer animation studios in the world, respected for both film and broadcast work.
Encompassing movies such as the Harry Potter films, 'Blade 2' and 'Mission: Impossible 2', television programmes like 'Walking with Dinosaurs', 'Walking with Beasts' and 'Dinotopia', and commercials such as 'Xbox: Mosquito', 'Levi's: Odyssey', and 'Guinness: Surfer', our CGI work has helped us win numerous awards, including a BAFTA and ten Primetime Emmys (see awards).

Prof John Vince (Bournemouth University)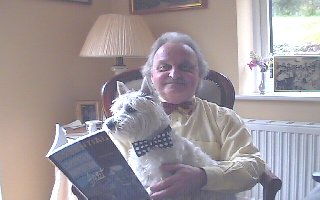 Title: "Educating Tomorrow's Computer Animators"

The theme of Prof. Vince's talk will be the issues associated with creating graduates who will become tomorrow's computer animators.Balancing the short-term demands of industry and the expectations of students, with the aims and objectives of an academic programme require careful management.
Prof. John Vince began working in computer graphics at Middlesex Polytechnic in 1968. His research activities centred on computer animation software and resulted in the PICASO and PRISM animation systems. Whilst at Middlesex, he designed the UK's first MSc course in Computer Graphics, and developed a popular programme of short courses in computer animation for television designers.

In 1986 he joined Rediffusion Simulation as a Research Consultant and worked on the development of real-time computer systems for commercial flight simulators.

In 1995 he was appointed Professor of Digital Media at the National Centre for Computer Animation at Bournemouth University, and in 1999 he was made Head of Academic Group for Computer Animation.

He has written and edited over 20 books on computer graphics, computer animation and virtual reality. He is a co-Editor-in-Chief of the VR Journal, and is currently President of the VR Society.